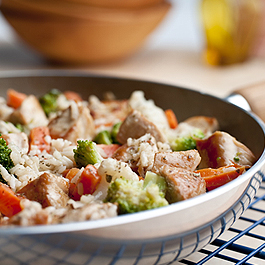 Courtesy of Campbell's® Kitchen
Servings: 4
Prep Time: 5 Min.
Cook Time: 35 Min.
* 1-1/4 lb. boneless skinless chicken breast halves, cut into cubes
* 1-3/4 c. Swanson® Chicken Broth or Swanson® Chicken Stock
* 1/2 tsp. dried basil leaves, crushed
* 1/2 tsp. garlic powder
* 3/4 c. uncooked regular long grain white rice
* 1 pkg. (16 oz.) frozen vegetable combination (broccoli, cauliflower, carrots)
1. Cook the chicken in a 10-in. nonstick skillet over medium-high heat until well browned, stirring often. Remove the chicken from the skillet.
2. Stir the broth, basil and garlic powder in the skillet and heat to a boil. Stir in the rice. Reduce the heat to low. Cover and cook for 5 min.
3. Stir in the vegetables. Return the chicken to the skillet. Cover and cook for 15 min. or until the chicken is cooked through and the rice is tender.
Calories: 333;
Total Fat: 4g;
Saturated Fat: 1g;
Cholesterol: 85mg;
Total Carbs: 36g;
Fiber: 4g;
Protein: 35g;
Sodium: 494mg;